Is there any better time of year than October? The cooler temperatures are a welcome change from the summer's heat. The later sunrise and earlier sunset mean shorter days and fewer working hours on the farm. The autumn colors bring leaf-peepers from near and far, and remind us just how beautiful Upstate New York truly is.
Our hay season is long over, and we have a barn full of round bales to show for it. Chickens are all processed and tucked away in freezers. It is the time of year I fondly remember my grandmother's basement larder, stocked to the brim with glass jars of canned tomatoes, bread & butter pickles, green beans, and beets—the very definition of bounty. October brings a tremendous sense of accomplishment.
Our sheep and goats are looking healthy and well-fed, ready to give birth in a few short months. Our wood shed is stacked with well-seasoned firewood, enough to carry us through a long, bitter winter. And we will soon have the barn cleaned out and ready for its winter residents. October also marks the calm before the storm.
This month represents an important transition period here on the farm—one that I did not always use to greatest advantage. It is the perfect time to review and plan; review what we did while it is still fresh in the brain; change what didn't work, and set in stone the things that did. Generally speaking, we end up tweaking most everything!
To celebrate both the bounty of the farm AND prepare for the winter to come, I start cooking in earnest. Cooking dinners is something that rather goes by the wayside during the summer and by the time October rolls around, the whole family is tired of cold cereal or frozen pizza.
I recommend roasting a whole chicken for dinner one night and then simmering the bones to make stock to use in the following recipe for dinner the next night. It is perfect October nourishment!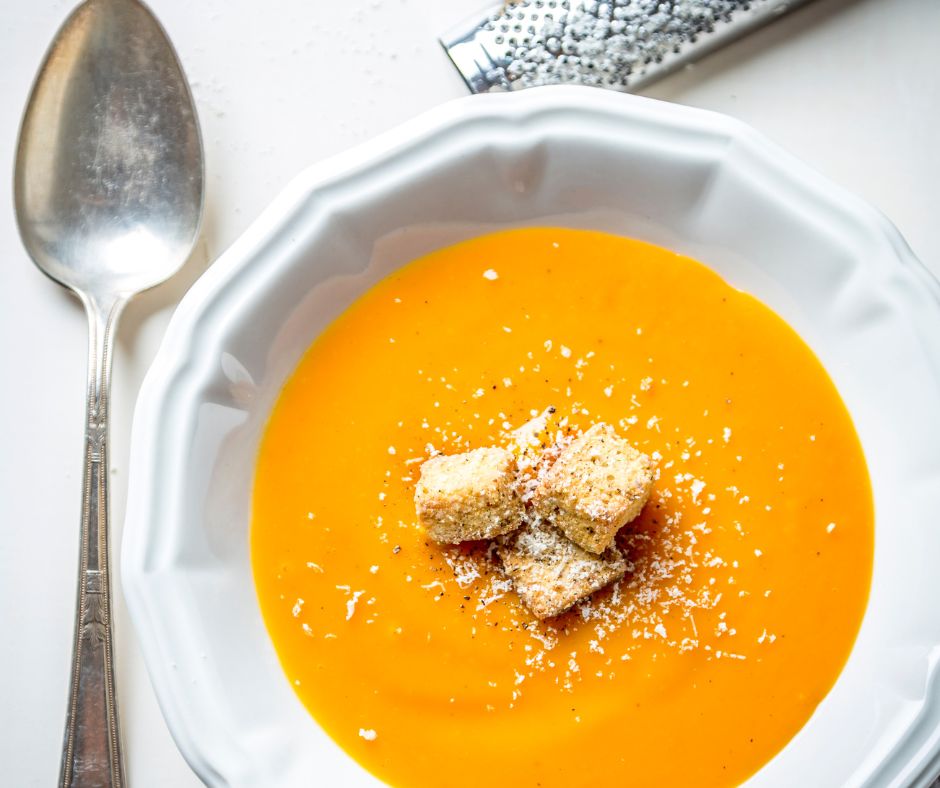 Carrot & Ginger Soup
7-8 cups chicken broth
2-3 lbs carrots, peeled and sliced
2 garlic cloves, diced fine
2 medium onions OR 3 leeks, chopped
1-2 yams or sweet potatoes, peeled and cut into 1" cubes
4 stalks celery, chopped
1 3" piece of ginger, grated
4 tablespoons butter
1 tsp nutmeg
Salt & pepper, to taste
Heavy cream, parmesan, or croutons (optional)
Instructions:
Bring stock to a low simmer in large soup pot. Sauté vegetables with ginger and nutmeg in butter for approximately 15 minutes. Transfer vegetables to hot stock, cover, and simmer over low heat for approximately 30 minutes or until tender. Puree mixture using submersion blender or regular blender. Add salt and pepper, as needed. Serve in soup bowls and finish with croutons, a splash of heavy cream or grating of nutmeg or parmesan (if using.) Leftovers freeze very well!